The Case for Pyrethroids, Then and Now
The Case for Pyrethroids, Then and Now
Pyrethroids first made their mark in the global insecticide market during the 1970s. They emerged when organophosphates and carbamates were widely used and accepted. But in just a few years, Pyrethroids had established an undisputed presence over their predecessors. It's been four decades since, and although many chemistries have come along, Pyrethroids are still holding their ground, in this sector. Apart from crop protection, they find use in non-crop segments like Public Health and Veterinary application for ecto-parasite management. Pyrethroids are an indispensable tool in Vector Control Programmes of the World Health Organization that saves the lives and livelihoods of millions in developing nations across the world.

Recent worldwide trends

Today Pyrethroids have a larger say in the crop protection business, accounting for 19% of the total insecticide business worldwide with around USD 2806 MN in 2019.
While a growth rate of -0.4% for the period 2014-19 does not reiterate this sentiment, a different picture emerges when considering their trajectory in terms of value share for the same period vis-a-vis the global insecticide business – they seem to have strengthened their presence across the crop protection market.

There are two underlying aspects to be considered. Firstly, Pyrethroids as a class haven't registered significant growth. Pyrethroids revenues have dipped to around -10% in 2016 and have been on the rebound for the rest of the period in the five years under consideration. However, the % share of Pyrethroids continues steadily around 19%, during the same period when insecticides as a whole seldom have had significant growth. This comes against the backdrop of some strong strides made by Diamides, IGRs, Acaricides and other new molecules across classes.

Meet the top contenders

Among the Pyrethroids, Lambda Cyhalothrin, Cypermethrin, Permethrin, Alpha Cypermethrin, Bifenthrin and Deltamethrin contribute to about 70% of the total Pyrethroid business generating a revenue of USD 1990 MN.
Global Pyrethroids Market – Molecule-wise Business

Product

Value (USD MN)

Lambda Cyhalothrin

632

Cypermethrin

357

Deltamethrin

345

Bifenthrin

265

Permethrin

220

Alpha Cypermethrin

171

Cyfluthrin

135

Tefluthrin

135

Zeta Cypermethrin

129

Esfenvalerate

85

Gamma Cyhalothrin

78

Fenpropathrin

42

Etofenprox

37

Other Pyrethroids

175

Total

2806

In terms of consumption, the Global uptake for Pyrethroids for Crop protection is quite region-driven. The consumption is concentrated in developing markets like Asia, LatAm and Africa while developed markets like the USA, Canada and the EU have been witnessing a declining trend owing to the newer chemistries and local regulations imposed for restricted usage.

India – the leading producers of Pyrethroids

Consumption aside, Asia is the primary hub for manufacturing and supply of Pyrethroids worldwide. And, India has emerged as a reliable producer of Pyrethroids with the domestic players' considerable impact in the segment. Among the top names are Bharat Rasayan, Hemani, Heranba, Meghmani, Tagros and UPL.

The country is a leading player in major pyrethroids like Cypermethrin, Deltamethrin, Alpha-Cypermethrin, Permethrin, Beta-Cyfluthrin and Transfluthrin and has a growing presence in Cyfluthrin, Lambda-Cyhalothrin, Tefluthrin, etc.
Export of Pyrethroids (Tech. grade) grew at over 12% during FY16 – FY 20. In FY20, India exported around 23000 MT of the major Pyrethroids produced in the country, recording the highest in five years. It is quite a feat as the numbers come inspite of supply and logistics setbacks due to COVID19 pandemic. It shows nothing but resilience of the industry.

India's Exports of Cypermethrin and Alpha-Cypermethrin registered a growth of around 16% and 14% individually in FY16 - FY 20. It is closely followed by Deltamethrin with 13% growth in the same period.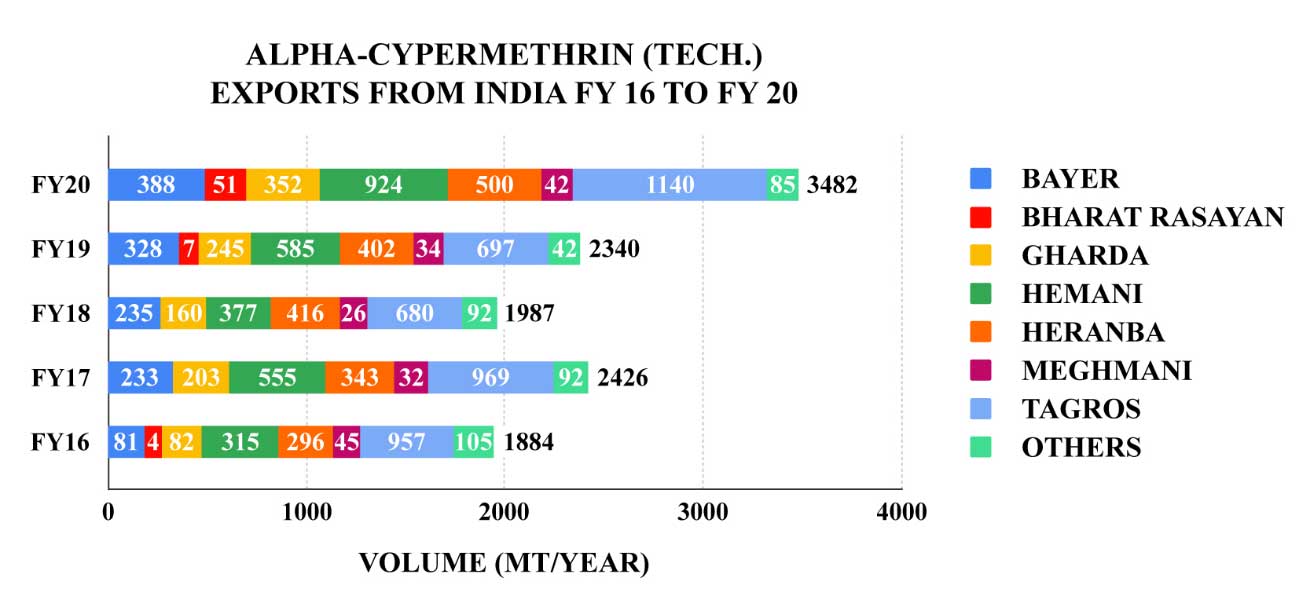 Of all major Pyrethroids produced in the country, Permethrin has a special significance. India is the only manufacturer of Permethrin (Tech.) in the world catering to global Permethrin consumption under all Crop and Non-Crop segments. Export of Permethrin from India to the world grew at 6% in FY16 – FY20.
Transfluthrin, a pyrethroid that has niche presence in House-Hold Insecticides is the proverbial cherry on top for India's dominance in Pyrethroids. India is the leading producer of Transfluthrin tech. with over 30% market share in the global Transfluthrin tech. business. The country also posted a healthy 17% growth in overall business during FY 16 – FY 20 that includes domestic business and exports.
Prev: Global Overview of Herbicides in Paddy Fields
Next: China's Pesticide Export Prices are Likely to Continue to Rise