PREVENTION AND CONTROL TECHNOLOGY FOR SPIDER MITES ON STRAWBERRY
PREVENTION AND CONTROL TECHNOLOGY
FOR SPIDER MITES ON STRAWBERRY
Spider mites are important pests on strawberries. The environmental conditions in the greenhouse are suitable for their reproduction. Spider mites can cause harm to strawberries during the entire growth period, especially the flowering and fruiting period. Now, it is strawberry season, the seedlings have been transplanted. Therefore, early monitoring and control of spider mites is critical to the yield and quality.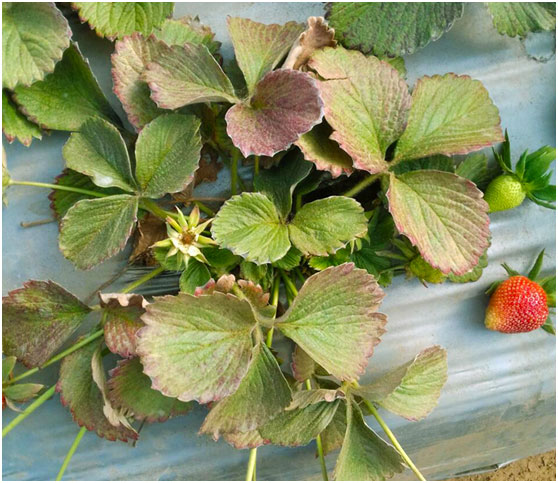 TYPE OF MITES
In China, two-spotted spider mites and red spider mite are two main types of spider mites that harm strawberries. Two-spotted spider mites are small in size, have strong adaptability and quick reproduction in population, which is the main species on strawberry. It often appears green if its food is sufficient, but turn to yellow or white if not.

SYMPTOMS OF HARM
Generally, adults and nymphs of mites suck the backs of strawberry leaves. when the planting period, seedlings or surrounding hosts could be source of spider mites, and they will be visible on the lower leaves of the strawberries after the greenhouse covered with film. In the early stage, small yellow or white spots appear on the back of leaves, then turn to gray-white, and yellow. If damage seriously, the leaves will turn yellow, and look like withered after fire, forming nets covering the whole leaves, and the infested plants will be dwarfed and early senescence. If damage in the flowering stage, the yield and quality will decrease, such as small size, bad taste, abnormal shape.
PREVENTION AND CONTROL TECHNOLOGY
The prevention and control of spider mites should take action in early stage of strawberry.
Firstly, to remove the old leaves of the injured plant.
Remove leaves infested by spider mites at the bottom of strawberries, and severely damaged flowers and fruits. Leave 3 to 6 leaves beside each bud.
Secondly, to release biological natural enemies.
After planting in autumn and covering the film in greenhouse, predatory mites (such as Amblyseius cucumeris, Amblyseius barkeri, Phytoseiulus persimilis, etc.) can be sprayed on areas where red spider mites occur. Release once every 30 days, and 2 to 3 times continuously depending on the degree of spider mite occurrence.
Finally, chemical control.
If red spider mites damage occurs when early tranplanting, pesticides can be used for better control, such as Bifenazate 43% SC, Etoxazole SC, and KING'S MITE OFF from king quenson. Each pesticide should be used no more than 2 times per growing season. Avoid rainy days and spray onto the back of leaves when application.
If you have a need, please contact us at any time:
Email: info@kingquenson.com
Tel: 86-755-86612760, 86-755-86612793
Prev: KING'S CHARM: A POST EMERGENT HERBICIDE FOR WHEAT
Next: No content.