Analysis of the Development Situation of the Pesticides Industry in 2022
In 2022, the ongoing Russian-Ukrainian conflict caused energy and food crises around the world and stunted the growth of almost all economies worldwide. As for the pesticide industry, which straddles the two major industries of agriculture and chemical industry, what is the situation in 2022? Today I am very glad to have the opportunity to analyze the development situation of the pesticide industry in 2022 with you. I hope that today's analysis can be helpful to all practitioners in the pesticide industry.
Chinese Pesticide Exports 2022: Increase in Both Volume and Value
The COVID-19 pandemic has affected the supply chain for three consecutive years, but China's pesticide industry kept developing rapidly, giving its products' competitiveness in the international market. In 2022, some pesticide varieties were in short supply due to tight energy supplies in the EU, and China's pesticide exports filled the gap in the international market. At the same time, the Chinese Ministry of Agriculture and Rural Affairs adopted corresponding policy measures to support pesticide exports, such as the implementation and further strengthening of policies related to EX pesticide registration, enabling pesticide manufacturers to export more types and formulations of products to serve local agriculture.
Despite the issues seen in the first half of the year, China's pesticide exports in 2022 increased in both volume and value overall. According to China ICAMA data, China exported in total 1.5961 million tons of pesticides in 2022, year-on-year increase of 4.51%, with the export value 151.587 billion RMB, equals to around 22.07 billion USD, year-on-year increase of 37.45%. The total pesticide export volume accounted for 85.81% of the total Chinese pesticide production output, which is a record high.
| | | | | |
| --- | --- | --- | --- | --- |
| Year | Volume in 100% Basis (Million tons) | Year-on-year increase | Value in Billion RMB | Year-on-year increase |
| 2020 | 1.1276 | 15.53% | 68.231 | 2.20% |
| 2021 | 1.5272 | 35.43% | 110.286 | 61.64% |
| 2022 | 1.5961 | 4.51% | 151.587 | 37.45% |
In terms of specific commodities, the export volume of herbicides was 1.338 million tons, up 14.86% year-on-year, and an export value of US$6.94 billion, up 88.48% year-on-year. The main export markets for herbicides were Brazil, Australia, the United States, Nigeria, and Thailand. Ukraine, as a grain producer, was once one of the major pesticide export markets for China. Affected by the war between Russia and Ukraine, China's exports of herbicides to Ukraine decreased by 46.52% from January to October 2022.
The export volume of insecticides was 323,000 tons, up 2.19% year-on-year, and the export value was US$1.67 billion, up 19.44% year-on-year. The main export markets were Brazil, Thailand, Bangladesh, Vietnam and Indonesia. Despite the fact that insecticide exports to a number of markets declined, exports to Brazil increased significantly by 96.4%, and prices were basically flat year-on-year.
The export volume of fungicides was 108,000 tons, down 2.58% year-on-year, and the export value was US$740 million, up 14.11% year-on-year. The main export markets were Indonesia, Australia, Vietnam, Brazil and Bangladesh.
China gradually liberated itself from the most severe COVID-19 pandemic lockdowns and welcomed the opening of its whole society at the end of the year. Although the economy also declined due to the locking down of cities and ports, as well as stoppages or suspensions of work and production, China's agricultural market generally remained stable due to the consistent demand for food. The pesticide industry continued to maintain its momentum of steady growth, with a slight reduction in production but rising economic scale and efficiency of companies. Pesticide exports also regained their normal level in the second half of the year. In 2022, the biggest fluctuation in the pesticide market was the sharp decline in pesticide prices, with more than 50% of pesticide varieties experiencing price drops year-on-year, which not only brought them back to the rational range, but also partly showed the effect of the gradual restoration of market production capacity.
Price: Over half of pesticide varieties fell year-on-year back to the rational range
In 2022, due to the conflict between Russia and Ukraine, the price of oil, natural gas and other energy sources rose sharply, followed by the prices of raw materials of bulk basic chemicals, leading to the considerable decline in the operating profits of chemical companies. However, pesticide prices in China experienced a fall instead of an increase, coming down from last year's overall high levels. This is mainly because the agrochemical industry, in 2022, was still in a recovery phase from the impact of energy and consumption control in 2021, and the agrochemical capacity construction period since 2017 has ended and production capacity gradually recovered. In addition, after the unusual procurement and hoarding during the past two years, inventories foreign markets needed to be drew down and demand weakened. These factors, coupled with the reduction of market speculation, helped drive prices back down to the rational range.
According to SINO-AGRI LEADING, one of the largest agricultural platforms in China, in 2022, the price of over 50% of pesticide varieties fell year-on-year, with an overall decline of 20% to 30%, with some products slumping by 50%.
The price of terminal formulations of non-selective herbicides kept hitting new lows, resulting in insufficient support for TCs. At the end of the year, the prices of terminal formulations introduced by manufacturers hit record lows, forcing down the price of glufosinate-ammonium TC. This is also the inevitable result of the gradual release of glufosinate-ammonium TC production capacity. Eventually, the price of glufosinate-ammonium TC plunged by 56% in 2022, the largest drop for TC products during that year. Other herbicide varieties with a price drop of over 30% include butachlor TC (-48%), pretilachlor TC (-42%), glyphosate TC (-40%), mesotrione TC (-40%), and nicosulfuron TC (-34%). Only several herbicide varieties experienced price rises, including propisochlor TC (8%), metolachlor TC (5%), trifluralin TC (5%), and pendimethalin TC (5%)(Fig. 4).
In terms of insecticides, with the gradual rise in production capacity, the prices of nicotic products decreased accordingly. The market for emamectin benzoate was greatly impacted by the expiration of the patent of chlorantraniliprole TC. The rise in the production capacity of lufenuron TC and flonicamid TC led to a high inventory level. Products with a price decrease of over 30% include acetamiprid TC (-48%), imidacloprid TC (-41%), bifenazate TC (-39%), emamectin benzoate TC (-37%), flonicamid TC (-35%), bifenthrin TC (-34%), lufenuron TC (-33%), abamectin TC (-31%), and lambda-cyhalothrin TC (-30%). Propargite TC (9%) is an old product. Because of its relatively concentrated production capacity, high upstream raw material price, and low inventories of TCs and formations, it became a rare insecticide variety with rising prices this year (Fig. 5).
In terms of fungicides, there was weak demand for triazole products and considerable reduction in raw material costs. Tebuconazole TC experienced a price slump by 46% year-on-year. Strobilurin TC enjoyed a relatively concentrated production capacity and stable export channels. However, the fungicide market was generally weak, which resulted in the lack of willingness among dealers to increase stock levels and drive upstream TC manufacturers to lower the prices. Products with a price drop of over 30% include tebuconazole TC (-46%), dimethomorph TC (-35%), prochloraz TC (-33%), trifloxystrobin TC (-32%), azoxystrobin TC (-32%), and fluazinam TC (-31%). Only thifluzamide TC saw a slight rise at 3% (Fig. 6).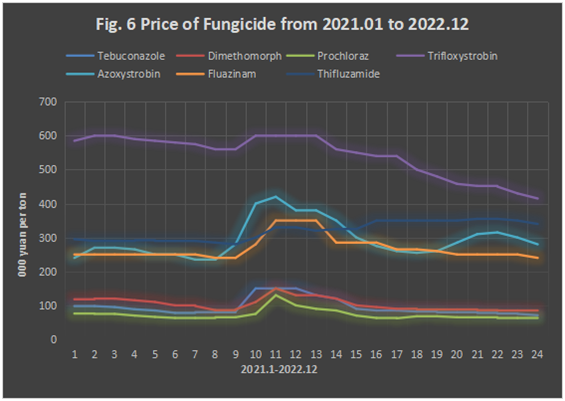 Policy: Further promote the merger and reorganization of enterprises; non-selective herbicide market to embrace explosive growth
The 14th Five-Year Plan period began in the first five years after China achieved its first centennial goal and started a new journey of building a modern socialist country in a comprehensive manner. In February 2022, the Pesticide Industry Development Program under the National 14th Five-Year Plan (hereinafter referred to as the ″Program″) was officially released, and has a programmatic and important guiding significance for the development of the industry. According to the Program, by 2025, the pesticide industry system should be more complete, the industrial structure more reasonable, the support for agricultural production should be further developed, and the green, high-quality development of the industry should be constantly improved.
According to the Program, production should be planned to promote pesticide industry mergers, restructuring, transformation and upgrading to foster larger, stronger and more competitive pesticide manufacturers. By 2025, efforts will be made to cultivate 10 enterprises with a business volume of more RMB5 billion, 50 enterprises with a business volume of over RMB1 billion, and 100 enterprises with business volume of above RMB500 million, while the business volume of pesticide manufacturers in industrial parks will be increased by 10%. These goals will be gradually achieved.
The Program requires those concerned to vigorously promote the application of green prevention and control technologies, such as biological control, while focusing on the development of specialist unified prevention and control services, and continuously improving pesticide utilization efficiency. By 2025, the coverage rate of the three major food crops by unified prevention and control initiative will reach 45%. Meanwhile, efforts to reduce the use of chemical pesticides will continue. The biological plant protection market is expected to see more intensive favorable policies and enter a period of rapid development.
In recent years, China has closely managed chemical pollution and safety. According to its ″14th Five-Year Plan″ for the pesticide industry, the country will further optimize production layout, increase efforts in the withdrawal of high-risk, high-pollution production capacity, and control excess capacity. In the country's eastern coastal areas, authorities plan to stabilize the development of pesticides in chemical parks, moderately expand their scale through utilizing their advantages, highlight the importance of the innovation and production of chemical pesticides, and phase out outdated production capacity. The central and western regions require more comprehensive assessments of pesticide projects for chemical parks and stricter controls of the issuance of licenses. In these regions, priority will be given to biopesticide development and chemical pesticide formulation, while pesticide technicals (TCs) will be moderately developed. In the Yangtze River Economic Belt that has the Yellow River Basin, with its environmentally sensitive major rivers and lakes, newbuild pesticide production projects will be strictly controlled.
GM breeding technology and its industry have now entered a strategic opportunity period, with the goal of utilizing technological advantages and periods of economic growth. The vigorous development of GM technology will become key to enhancing the competitiveness of Chinese seed companies and will also bring major changes to the subsequent pesticide market. In 2021, China achieved historic progress in the industrialization trials of GM crops, with the Ministry of Agriculture and Rural Affairs (MARA) conducting industrialization pilots for herbicide-tolerant GM soybeans and insect-resistant, herbicide-tolerant GM corn, which obtained safety certificates for production applications. Subsequently, the registration of target herbicides for herbicide-resistant GM corn and soybean began. In February 2022, MARA successively issued guidelines for field efficacy trials related to controlling weeds with herbicides in herbicide-tolerant GM corn and soybean fields, as well as registration data requirements for target herbicides for herbicide-tolerant GM crops, providing a legal basis for the registration of target herbicides for herbicide-tolerant GM corns and soybeans.
From 2026, the commercial planting of GM soybean in China is expected to develop rapidly and is estimated to increase by 8% to 10% annually, with a coverage rate of 50% to 60%. For herbicides, it is predicated that by 2030, the amount of glyphosate used in soybeans in China will increase by 500% to 800% from 2021, as well as glufosinate-ammonium.
Production capacity: New projects in Northwest China reached peak, intermediates projects also rising
According to the National Bureau of Statistics, the production of chemical pesticides in China began to decline gradually from the peak output of over 3.7 million tons in 2014-2016 to 2.083 million tons in 2018. Afterwards, the industry supply gradually improved and recovered, and pesticide output reached 2.498 million tons in 2021.

In 2022, affected by the COVID-19 pandemic, the growth of pesticide production in China stagnated again, and adjustments to production capacity structure could be a contributing factor (Fig.1). From January to November, 2022, China's pesticide output was 2.296 million tons, with a cumulative decline of 1.8% year-on-year (Fig.2). The top three provinces in terms of the production of chemical pesticide TCs in China were Jiangsu, Shandong and Sichuan. Pesticide production projects under construction in Hubei, Inner Mongolia, Ningxia, Gansu and other provinces were at historically high levels, and capacity transfer output is being expanded.
In recent years, there has been increasingly closer industrial connections between downstream products and upstream intermediates, which is reflected by the construction of pesticide projects or the prices of pesticides. Pesticide intermediates guarantee the rapid development of pesticide TCs and formulation industry at the complete industry chain level. The expiration of a large number of new pesticide patents, as well as the adjustment of pesticide structures and agricultural protection policies, will drive the growth of the market and promote the development of pesticide intermediates industry. According to ASKCI, the production of pesticide intermediates in China is expected to reach 5.3 million tons in 2022 (Fig.3).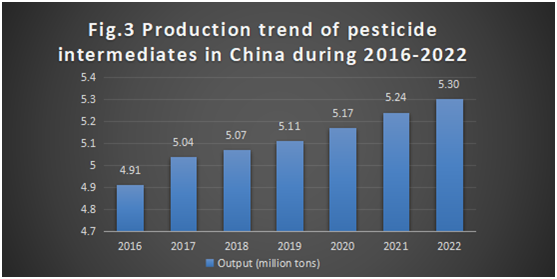 Registration: Off-patent registrations for TCs ushered in an explosive growth
In 2022, the number of pesticide registrations in China decreased significantly compared to 2021. This year, there were 500 new registrations in the country, accounting for only 17% of the 2,884 new registrations in the previous year, and no new active ingredients were approved this year.
There were 290 new registrations of pesticide products for field crops in 2022, with the largest number of herbicides being at 96. Several pesticide TC/TK registrations witnessed an explosive growth this year (Table 1), and the attention-grabbing ones include prothioconazole (13 TCs), chlorantraniliprole (7 TCs), and L-glufosinate (3 TCs and 2 TKs).
Table1. Registrations of Prothioconazole Chlorantraniliprole and L-glufosinate
| | | |
| --- | --- | --- |
| Pesticide | Category | No. of New Registrations |
| Prothioconazole | Fungicide | 13 |
| Chlorantraniliprole | Insecticide | 7 |
| L-glufosinate | Herbicide | 5 |
In 2022, with the implementation of the Announcement on Matters Related to the Registration of Export-only Pesticides (EX Pesticides in short) in China and the further strengthening of policies benefiting EX pesticide manufacturers, the number of EX pesticide registrations by Chinese pesticide companies increased rapidly. This year, 192 EX pesticides were approved, and half of them were herbicides.

As of February 2023, ICAMA has approved the registration of 363 EX pesticides. In terms of category, more than half, or 57.58%, are herbicides. In terms of formulation type, 41 are registered as TCs (Fig. 7). Products with more than 10 registrations include emamectin benzoate, abamectin, glufosinate-ammonium, 2,4-D-dimethylammonium, and chlorimuron-ethyl TC (Fig. 8).
Fig. 7 Formulation type of EX registrations

Fig. 8 Products of EX registrations

Conclusion
According to King Quenson's 20 years of experience in pesticide export and comprehensive analysis of various information and factors, we believe that in 2023, China's pesticide export will still play the important role in the world's agrochemical supply chain. The export scale will be between 16 billion and 22 billion US dollars. The reasons are as follows:

First of all, there is no doubt that with the implementation of the "14th Five-Year Plan" for the pesticide industry, more high-pollution, high-risk, and backward production capacity will gradually withdraw from the historical stage. Instead, innovative products with attributes such as organic, environmental protection, and biopesticides will be popular.
As China intensifies research and development of herbicide-resistant genetically modified crops such as soybeans and corn, it will also bring great changes in China's pesticide market, and the pattern of herbicide products will become clearer.
Secondly, for the remaining inventory by over-purchasing due to the shortage of technical materials in the supply chain in the past three years, most technical manufacturers now urgently need to release their stocks. Therefore, the price of traditional pesticide technicals and formulations will continue to decline in the first half of 2023. However, with the gradual recovery of global agricultural production and the consuming of the existing global inventory, by the third to fourth quarter of 2023, especially the fourth quarter, the prices of pesticide technicals and formulations should rebound to a certain extent, especially herbicides and some insecticides , Fungicides will have a price callback trend.
Third, due to the reflow of US dollars caused by the United States' continuous interest rate hikes and RRR cuts, countries around the world are experiencing a shortage of US dollars. Now, China, Brazil, Indonesia, Malaysia and other countries are actively discussing transactions with other currencies such as RMB. This trend will lead to a reduction in the impact of the US dollar on China's export trade barriers to countries around the world. It is conducive to changing the current situation that some countries in Africa and the Middle East are unable to purchase due to the shortage of US dollars. Therefore, the conditions are actually maturing for China on a more stabilized agrochemical supply chain to the world agriculture.
Fourth, the impact of the Russia-Ukraine war still exists, and trade with some countries in Eastern Europe will still be restricted. Therefore, if Russia and Ukraine can resume negotiations or even reach a settlement this year, the economy will usher in a new round of recovery, which will also bring growth points to China's pesticide exports.
Therefore, in view of the above analysis, King Quenson believes that China's pesticide exports in 2023 should remain between 16 billion and 22 billion US dollars. With China's standardization and scale construction in the agrochemical industry, and Chinese agrochemical companies become more focused on innovation, the quality and safety of Chinese pesticides will be further improved. On the stage of the global pesticide industry, Chinese pesticides will play a more important role and undertake the tasks of product innovation, cost optimization and formulation upgrade.
Alright then, this is all for today. Hope this video can help you have a better understanding of the market trend of pesticide industry. If you like it, please subscribe to our channel (https://www.youtube.com/@KingQuenson/featured). And if you have any more questions, please leave us a message down here below in the comment zone. And King Quenson will try to provide you with more information regarding to the pesticide industry and pest control. King Quenson: Focus On Your Harvest.
Prev: PESTICIDES – SOMETHINGS YOU SHOULD TO KNOW BEFORE YOUR NEXT APPLICATION
Next: AN INNOVATION FOR POST-EMERGENCE HERBICIDE - KING'S TUDO