King's Nema Off, a Highly Effective, Broad-Spectrum Non-Fumigant Nematicide
King's Nema Off, a Highly Effective, Broad-Spectrum Non-Fumigant Nematicide
Plant-parasitic nematodes (PPNs) are a global pathogen, it has been found to infect almost every part of a plant, including roots, stems, leaves, fruits and seeds, either alone or in combination with other soil microorganisms. And it is responsible for about 10% losses in annual global crop yields, equivalent to an estimated US $173 billion per year.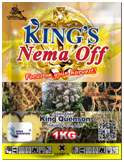 King's Nema Off is a highly effective, broad-spectrum non-fumigant organophosphate nematicide from King Quenson, provides a good and stable control of root-knot, root lesion, cyst and free-living nematodes in a wide range of crops such as potato, tomato, cucumber, carrot, banana, grape, strawberry, and so on.


Broad-Spectrum Nematodes Control
Excellent control of major plant-parasitic nematodes and free-living nematodes. King's Nema Off exhibits nematicidal and nemastatic activities. King's Nema Off can also control ground pests such as aphids, thrips, and mites.
Contact and Systemic Action
King's Nema Off kills nematodes in two main ways: the nematode dies from contact with soil containing King's Nema Off; King's Nema Off is absorbed into the roots of crops to kill nematodes that have previously invaded the roots and formed root nodules.
Fast-Acting and Long-Lasting Protection
After using King's Nema Off, microscopically, almost all of the nematodes are killed within 24 hours, color changes in the root nodules can be observed within 4-6 days, the fibrous root length can be significantly increased within 6-8 days, and crop growth is clearly restored within 15 days.
Long-lasting protection lasts 2-3 months for annual crops and 4-6 months for perennial crops.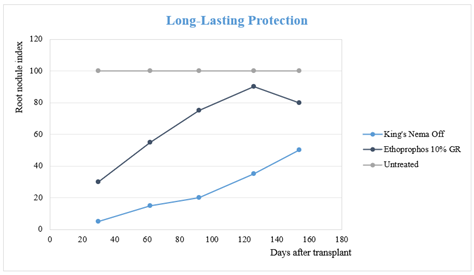 Stable Activities in Various Soil Conditions
King's Nema Off's control activities remain unaffected by soil type, soil pH, soil temperature, moisture, etc. Therefore, King's Nema Off is not limited by season, field and facility.
Excellent Compatibility
King's Nema Off, combined with Oligosaccharins, improves the plant's stress resistance and promotes capillary root growth while killing nematodes. King's Nema Off, combined with Chitin, also promotes root absorption and growth. King's Nema Off, combined with a base fertilizer, kills nematodes, reduces root damage and promotes new roots. King's Nema Off, combined with Abamectin, can expand the pest spectrum, has more sites of action on the pest, and significantly increases effectiveness and delay the development of pest resistance.
Field Performance of King's Nema Off
A large number of efficacy trials showed that the control efficacy of King's Nema Off was stable at 85-95%.

King's Nema Off provides growers with a pest management tool for use against nematode pest pressure.
Since 2003, King Quenson has been thriving to introduce the latest technologies to agricultural industries and farmers to achieve mutual development and prosperity. With years of dedication and rich experience, King Quenson devotes more than 20 years to crop protection and offers solutions.

If you have a need, you can contact us at any time:
Email: info@kingquenson.com
Tel: 86-755-86612760, 86-755-86612793
Prev: KING'S SIEGE